PROUD TO BE AN AMERICAN MANUFACTURER™
Gordon Brush
®
is dedicated to keeping American jobs in our 250,000 square foot manufacturing facilities, in California and Mississippi. The Company sources raw materials and components globally, when they are either not available in the United States, or not able to be purchased domestically, based upon cost, quality or availability. Some of our paint and sundry products are imported.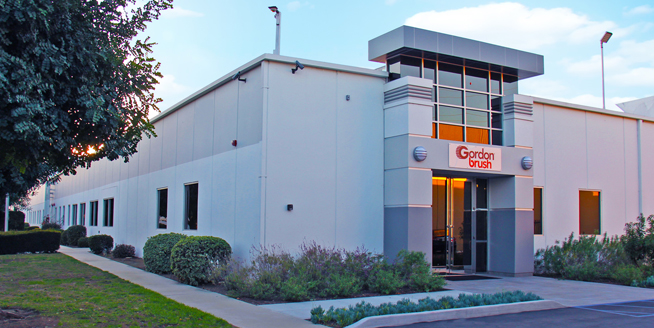 What is a "Dustless Brush?"
The Origin of
Milwaukee Dustless Brush
In the 1800's, most all floors were only wood. When one swept a floor, the dust on the floor kicked-up and became airborne, settling everywhere. To contain the damaging and unhealthy airborne dust, the Company developed a "Dustless Brush". The "dustless" brush, as it became known as, was the original product manufactured by
Milwaukee Dustless Brush
in 1897.
The engineers reasoned that moistened dust will not rise but remain suspended in air when disturbed. So they constructed a unique floor brush with a reservoir on top of the broom head into which they poured a special cleaning and dust laying fluid, called Arbitrin (Kerosene was also used). When the cap on the back of the reservoir was loosened, the fluid flows slowly down a central row of feed tufts and slightly moistens the working surface of the brush. In sweeping, the moisture of the feed tufts is transferred to the fine particles of dust on the floor, causing them to adhere to one another and to collect into little balls. These, being slightly moistened and consequently heavy, are thrown ahead of the brush at each stroke. The congealed dust particles are now easily gathered into a dust pan and thrown in the garbage. This method was highly effective, especially on the wood floor prevalent at the turn of the century.
The original Dustless Brush also contained an external, adjustable hinge to where the handle attached. The adjustable swivel socket allows for positioning the handle at many different angles; it can also be used as an upright broom. Today, the wood back has been replaced by a steel backing that is placed over a narrow, hard plastic brush block and crimped permanently onto the block. Steel rivets are inserted the entire block to secure the adjustable swivel socket. The end result is a thin profile, lightweight broom head, on a block that will not crack or split. The ergonomic head-handle combination is adjustable to suit the user's height. The handle-head combination can be reversed to keep bristles in shape for longer wear.

Milwaukee Dustless Brush now manufactures many styles of steel-backed floor brushes. The same attention to quality construction can be found in our entire line of cleaning tools. Metal-capped upright brooms and floor squeegees with bolt-in handle sockets are just two examples of the outstanding features of this product line which received a gold medal at the 1904 St. Louis World's Fair. The original dustless brush was succeeded by Speed Sweep® brushes when improved floor surfaces and changes in sweeping requirements became widespread.
Gordon Brush® Timeline
| | |
| --- | --- |
| • 1951® | Don Gordon establishes Gordon Brush® |
| • 1973® | Aerospace Engineer William Loitz purchases Gordon Brush® |
| • 1990® | Ken Rakusin leaves career at Xerox to run Gordon Brush® |
| • 1998® | Ken Rakusin and Bill Loitz purchase Gordon Brush® |
| • 1999® | Gordon Brush® acquires the Marx Brush line of artist and cosmetic brushes |
| • 2005® | Gordon Brush® acquires Milwaukee Dustless Brush, a leading janitorial and sanitation brush manufacturer. |
| • 2006® | Gordon Brush® acquires JEK Inc., a leading brush manufacturer for the printed circuit board industry and surface finishing and conditioning industry |
| • 2008® | Gordon Brush® acquires Redtree Industries, Inc., a leading paint applicator and paint brush manufacturer and distributor for the marine and hardware industries. |
| • 2010® | Ken Rakusin acquires Bill Loitz's interest in Gordon Brush® |
| • 2011® | Gordon Brush®  acquires Brush Supply Company |
| • 2012® | Gordon Brush®  acquires the FootMate® System, a brush and specially formulated gel, that is used to clean and massage feet while in the shower or bath. |
| • 2016® | New Corporate Headquarters; Gordon Brush Mfg. Co. Inc., Milwaukee Dustless Wisconsin, LLC and Redtree Industries, LLC moves into a new 183,000 square foot facility in the City of Industry, CA USA |
| • 2016® | Gordon Brush® acquires StaticFaction, the sole exclusive, authorized North American distributor of Thunderon® anti-static properties |
| • 2016® | Gordon Brush® acquires J.B. Ward, a manufacturer of specialty custom brushes, whose origin dates back to 1855 |
| • 2017® | Gordon Brush® acquires Kirschner Brush Mfg. Company, a manufacturer of paint brushes for all applications and industries. |
| • 2018® | Gordon Brush® acquires Easy Reach, Inc., an American manufacturer of quality wash brushes, extension handles, injection and foam molded brush blocks and other janitorial products. |
| • 2019® | Gordon Brush® acquires Parker Brush, Inc., an American manufacturer of brushes for the agriculture, food processing and electronics industries, whose origin dates back to 1959. |
| • 2019® | Gordon Brush® acquires Spectrum Paint Applicator Corp., an American manufacturer of consumer paint brushes, paint rollers, and artist brushes, whose origin dates back to 1945. |
---
Examples of some of the industries we work with:
*Milwaukee Dustless Brush worked with Dairy Queen
®
to create an 8 foot long Metal Free Brush that could clean the inside of their ice cream machine's dispensing head. The brush was snaked up into the orifice of the head and shimmied to clean. The Metal Free bristles will not break off like wire bristles and will not damage the surface of the dispensing head.
*A movie theater chain asked Milwaukee Dustless Brush to develop a broom that would fit underneath the theater seats to clean hard to reach areas as well as the aisles. Milwaukee Dustless created a lightweight, narrow head broom that can easily maneuver underneath the seats and through the aisles. The Seat Sweep
®
 broom was issued United States Patent #'s: 10,188,201, D827,963
*A large restaurant conglomerate asked Milwaukee Dustless Brush to develop a very high temperature set of brushes to clean fryers and other appliances where hot oil was used in the cooking process. The brushes developed by Milwaukee Dustless Brush used a fill material that could withstand temperatures of greater than 500˚ F.


Visit our other Milwaukee Dustless® companies for all your brush needs: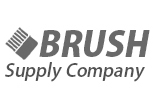 Brush Supply Company
Since 2011